Storytellers Spin Yarns Old And New In Orem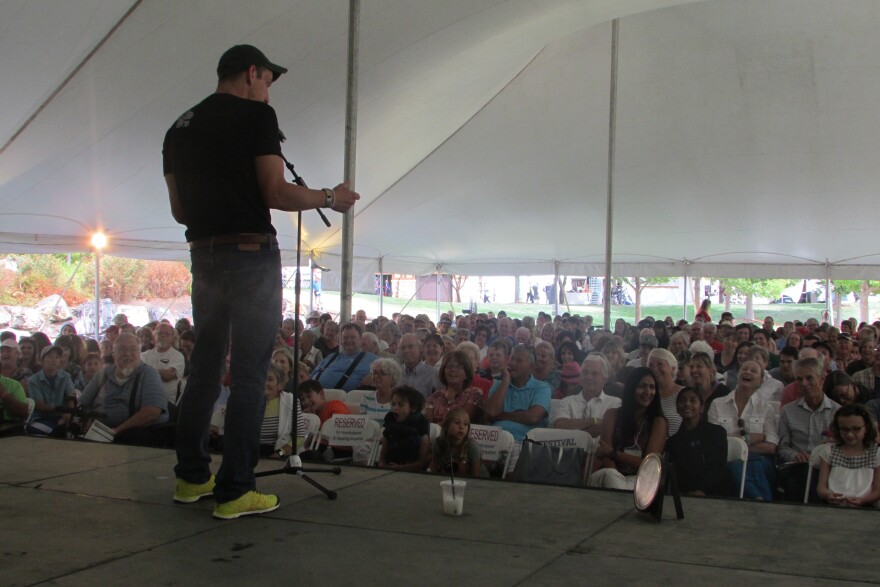 There was a time not too long ago when storytellers gathered in Provo Canyon. Their tales ranged from silly to spooky. It was the Timpanogos Storytelling Festival, and people came from near and far to hear the tales of pros like Bil Lepp, a champion liar from West Virginia.
"Some people would say that I'm irrationally scared of spiders," Lepp told an audience he kept in stitches. "But that's just not true. It's the rest of you that aren't scared enough."
In a tent nearby, spellbound listeners heard a storyteller from Wales recount the journey of Odysseus.
Youth tellers, as they're called, spun their own yarns.
"Have you ever been blamed for something you didn't do?" Utahn Ariah Gashler asked aloud. "It happens to me all the time, like that time my mom walked into the room and it was a huge mess."
This year's festival was the 27th, said Karen Acerson, president of the Timpanogos Storytelling Institute.
"They come from all over the world," she said, "and they bring tales of culture and folk talks, jack tales, tall tales – it's just fun."
Many people believe its just kids who like listening to stories, but Acerson says people of all ages get excited. How stories take ahold of us is something teller Ron Chick first grasped as a special education teacher in California.
"We are hard-wired," he said, "to love story."
After three days telling and listening, festival-goers strolled from the big tents in Provo Canyon Saturday night and headed home. Many will return next year, ready to swap stories both old and new.
The end.