Mormon And Secular Utahns Celebrate Pioneer Day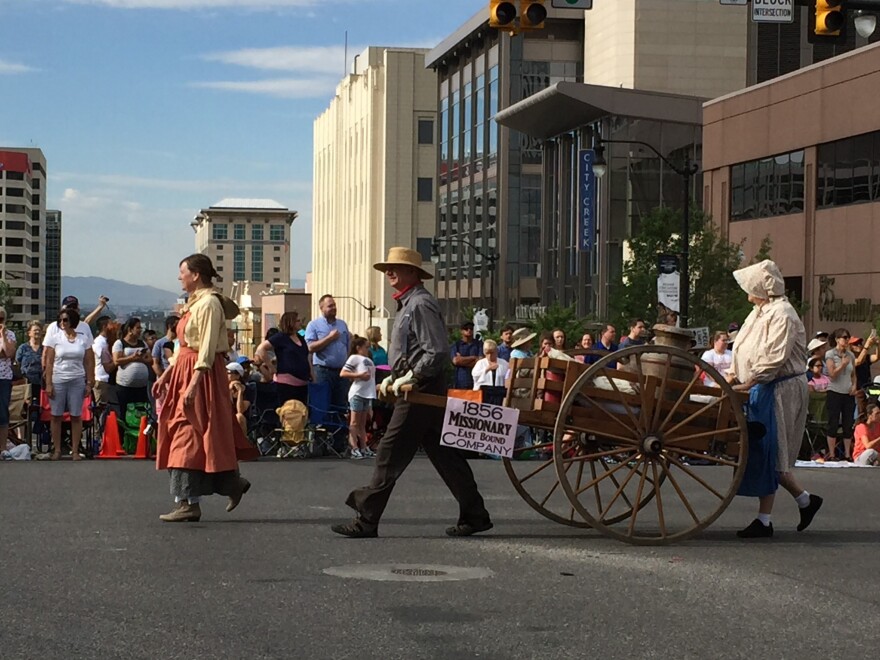 On Pioneer Day, religious and secular Utahns celebrated the anniversary of the Mormon pioneers' arrival in the Salt Lake Valley.
The parade was led by President Dieter F. Uchtdorf, the second counselor in the First Presidency of the Church of Jesus Christ of Latter-Day Saints. Behind him glittering floats, high school drum lines, and pioneer reenactors in prairie dresses and straw hats pulled handcarts through downtown Salt Lake.
Rachel Orr watched the parade with a half dozen friends and family members.
"For me, I get to tell my little three-year-old about - show him - what the pioneers are and who came to Utah, and that's important for me to be able to give him actual examples," Orr says.
Beyond the music and floats, she says remembering the struggle of the pioneers arriving in 1847 gives it a sense of religious significance.
"Just watching them walk in the parade I'm like, that's tough enough for me," she says.
Off the parade route inside the bar, Beer Bar, Brendan Kawakami is getting ready to celebrate this state holiday in a different way.
He chops through a bunch of magenta rhubarb stalks with a long kitchen knife.
"We're going to be making a blackberry and rhubarb compote for a buttermilk pie that we're making for the festivities today," Kawakami says.
Kawakami works at Beer Bar where they're hosting the alternative celebration: "Pie and Beer Day." This year's gathering of local brewers and bakers is a fundraiser for the Utah Brewers Guild.
"It truly is evolving into something that is benefiting a good cause and strengthening a community that is burgeoning in Utah at this time," Kawakami says.
For Utahns of all backgrounds, the holiday will continue with fireworks at dusk.