Can Trolley Square Make a Comeback?
Historic Trolley Square is undergoing a facelift this holiday season. When Utah businessman Khosrow Semnani bought the troubled shopping center last year, he vowed to return it to its former glory. Semnani is optimistic even though many shop spaces remain empty.
The concrete foundation of Trolley Square shopping center is visibly crumbling. A building crew is placing new custom made pieces over old ones. Shoppers are greeted with Christmas music as well as electric drills. But the age and character of this early 20th century streetcar yard are some of the things that people love about it. Amy Coltrin of West Jordan is here taking pictures.
"I've always had a fascination with rusty things, so I really like this water tower," Coltrin says.
People also have nostalgic feelings from the mall's heyday in the seventies and eighties. Inside, Joe Heninger is looking for Santa Claus with his wife and two young daughters.
"I used to come here as a kid, and I have good memories of it." Heninger says.
Gary Woodhouse of Layton is here for the experience.
"I wish we were back to the time when just about every space was full and all the shops were really cooking around the holidays."
"The floors aren't even, and the stairs are kind of rickety, and the stores are unique," Woodhouse says. "It's a fun place to shop, and it's completely different from going to a standard mall," but he says Trolley Square is not what it once was. "I wish we were back to the time when just about every space was full and all the shops were really cooking around the holidays."
It's true. There weren't a whole lot of shoppers at the mall when I was there. And owner Khosrow Semnani acknowledges that there are too many empty shops at Trolley Square. In fact, we used one of those vacant spots for an interview. But Semnani is optimistic that they will be filled. He believes Utahns just need a reason to come back.
"They know about Trolley, they love Trolley, they like to be here. The only problem right now, today, is we don't have enough things for them," Semnani says. "I think once we do what's necessary here, restore the value of this thing that has been here, and people learn about it, they will come."
"They know about Trolley, they love Trolley, they like to be here. The only problem right now, today, is we don't have enough things for them."
Iranian-born Semnani was the founder of Envirocare - now called EnergySolutions. He's also a well-known philanthropist in Utah. When he bought the struggling Trolley Square last year, it was in receivership. It had been in financial trouble since the recession and was the subject of two lawsuits, one related to a loan default and one for maintenance issues. Semnani has said those lawsuits are resolved and his goal is to restore Trolley Square as a community center. To that end, he says having some local businesses in the mix is essential.
"It has been a local gathering place. We really are going out and soliciting local businesses more than anything else. Because this is really the backbone of a place like this," Semnani says. Cosset Bath and Body is one of those local businesses. It just opened this fall near the entrance of the main building.
"Our store I'm sure you noticed as you walk past, it has a wonderful aroma so it kind of tends to draw you in. That's the idea, is to catch them as they walk past," says David Danzig, co-owner of Cosset with his wife. They started out at the farmer's market, and came to Trolley Square with the hopes that it would draw shoppers interested in buying local. "The people surrounding this area really care about local, they care about hand-made, and that's really what we are."
Danzig says a special rental agreement made it possible for him to open the store. For now, he says he's just paying a percentage of sales. Semnani says he's is working out special deals for some businesses.
"We believe that their success is our success, and we are working out a number of different kind of deals, from straight rental to percentage of sales, you know different things to encourage and actually accommodate some of the needs of some of the starting businesses," Semnani says. "We know in the long run they are going to help the center as well."
But not all local businesses have had a positive experience since Khosrow Semnani took the reins. Jesse Wilkerson is majority owner of Trolley Wing Company, which first opened in a trolley car outside the mall, and eventually moved inside, where he says he was losing money. Wilkerson had been lobbying for a bigger space at the mall with an outdoor patio. Shortly after Semnani became owner, Wilkerson was called into a meeting where he thought he would finally get the space he wanted. Instead, he says he was handed an eviction notice.
"I don't know how to put into words the shock that I felt after losing money and having my hopes up and to be let go for absolutely no reason," Wilkerson says. "They told us they had another, bigger tenant that was going to take over our spot. That was over a year ago, and no one's there yet."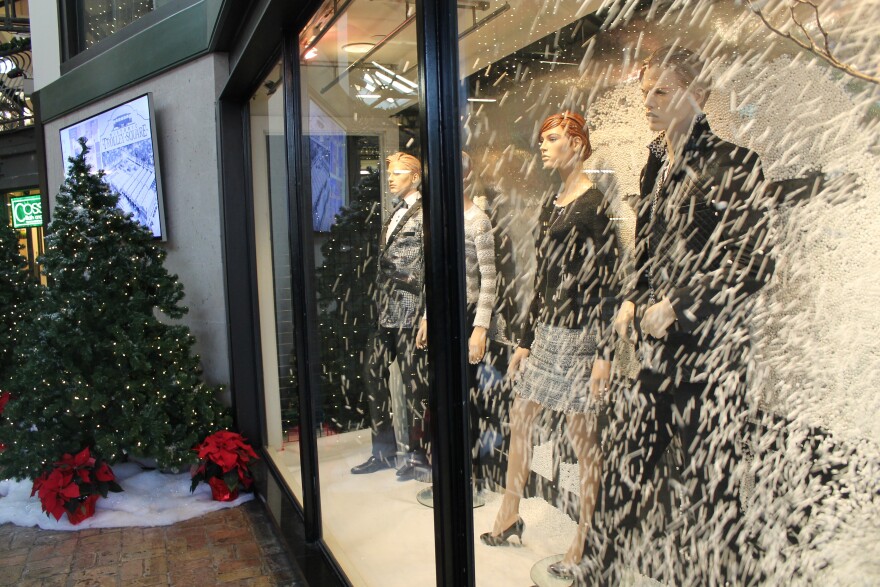 Semnani did not want to discuss details, but told KUER that the wing company didn't fit into the bigger plans for the space, which he says are still in process. Wilkerson says it's actually worked out for the best. Trolley Wing Company has a new location in Sugar House where he says the business is doing better than it ever did at the mall.
"The future is bright," Wilkerson says. "Everything that's happened in my mind, happened for a reason. I just feel bad for the other tenants in Trolley Square right now. It's a ghost town. It's really sad, because it's such a beautiful, special building."
As for David Danzig, owner of Cosset Bath and Body, he's banking on Trolley Square making a comeback, and soon.
"The holiday season will be like make or break for us to a certain degree, but we've had such a great reception from everybody, we're on track to just make this awesome," Danzig says.
Semnani says he's in negotiations with a number of potential tenants. He says it's only a matter of time before Trolley Square is restored.