Odds Are Dry Spell Might End This Winter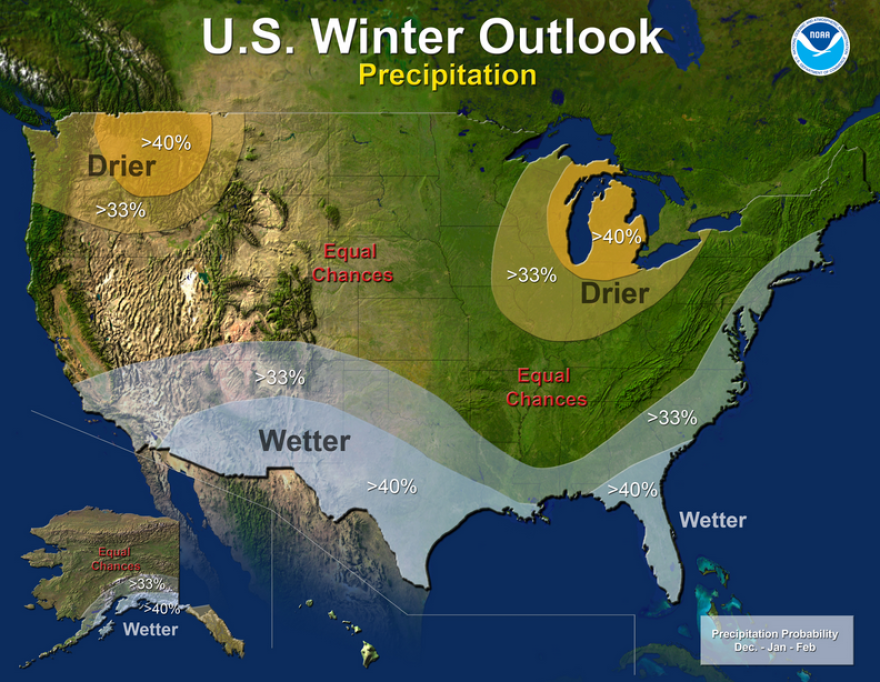 October's been warmer and drier than usual so far in Utah. The warm trend is expected to continue into winter, but forecasters can't say how much rain and snow will fall in the coming months.
The National Weather Service's long-term outlook says normal precipitation is just as likely this winter as especially wet -- or dry --weather. But the state's had three extra dry years in a row, and that might be the single most important factor ahead.
"Most likely, and in our favor, is that we're going to have a change in the weather pattern," says Brian McInerney, a weather service hydrologist in Salt Lake City. "We're going to have normal to above normal precip, just because its so hard to put together four years of dry conditions."
He's not surprised the winter outlook calls for northern Utah to be warmer. That's climate change.
But McInerney would be surprised to see the dryness drag on. He points to Utah State University studies on weather patterns that suggest Utah's dry pattern is easing. He says more storminess means less pollution.
"Hopefully," he says, "we'll have an active pattern and we have continued air masses exchanging through the valleys so we don't have this kind of gunky air just sitting at the bottom of the valley and producing lots of pollution."
National maps show that monsoon rains in July, August and September have washed out the drought on Utah's eastern edge.
But farms and ranches in the central and western parts of the state are still thirsty.
"Our farmers and ranchers, bless their hearts, they're eternal optimists," says Randy Parker, CEO for the Utah Farm Bureau. "Their hopes and their prayers are that the good Lord will bless us with water to meet our needs and help us to provide abundance that is valuable to our Utah consumers."
Tough weather has raised feed and fodder prices for farmers and ranchers. They've responded by trimming their stock herds, and that pushed beef, lamb and pork prices up. That means consumers should pray for rain, too, if they want to see meat prices fall.