Utah is embarking on a once-in-a-decade process of redrawing political maps. The state Legislature will decide what the districts for Congress, the state school board, House and Senate will look like, with input from the Independent Redistricting Commission.KUER is asking listeners what questions they have about the process.Leave us a message at (801) 609-1163.
Why rural and urban Utahns are divided on how to draw new political boundaries
Utah is in the middle of its once-in-a-decade redistricting process, and rural representation has been a flashpoint in the debate over how the state's political maps should be drawn.
Right now, all four of Utah's Congressional districts are made up of a slice of the urban Wasatch Front and rural counties. Two draft maps from the advisory Independent Redistricting Commission include two districts that are almost entirely urban, one of which leans Democratic.
Former Rep. Rob Bishop, R-UT, dramatically and abruptly quit the commission in the middle of a meeting last week because he said those maps didn't give rural Utah enough of a voice.
"I am frustrated with this process," he said. "I'm frustrated with what I've been hearing, I'm frustrated with where we're going, because this commission is designed not to work … I respect each of you as an individual, but I'm sorry as a group we suck."
Those who favor maps with more solidly urban districts argue that it's hard for representatives to serve two sets of constituents well at the same time.
But experts say Utahns' opinions on urban and rural representation in Congress have a lot more to do with party than where they live.

Rural/Urban Divide
On a Friday evening in Salt Lake City, about a dozen people filed into a community center to tell the Independent Redistricting Commission how they'd like to be represented. The commission is advising the Legislature on drawing political maps.
"They really need to design maps that reflect people who are in voting districts who have similar needs," said Sandy resident Levy Woodruff.
Woodruff said the current Congressional map doesn't work. Urban areas, like where she lives, worry about things like traffic and air quality.
"I don't necessarily know what the major interests of rural voters would be because I'm not one," she said. "So if I am choosing their representative for them, I don't know that that serves them very well and vice versa ..."
But some rural Republicans in the central part of the state say the system is working really well for them. Many live in the 2nd District and are represented by Republican Congressman Chris Stewart. That district runs from Salt Lake City to St. George.
Janet Fountain was at a Legislative Redistricting Committee meeting in the Richfield High School auditorium in October. She's the mayor of Marysvale, a small town in Piute County.
"Right now I think things are good," Fountain said. "We do not want to not have Chris Stewart involved with the rural community because he understands us. Mr. Stewart is very active in communicating in rural areas with us and coming to our area."
Fountain said Stewart pays attention to rural issues like the drought and internet access.
Changing Populations
But if the population of Salt Lake City grows so much that District 2 becomes a swing district, those rural Utahns might not be happy with their representative.
"You've heard about how Rep. Stewart has been serving rural Utah well," Daniel Friend told the Legislative Redistricting Committee when he joined the Richfield meeting via Zoom.
"Everybody I know in Salt Lake City thinks he is serving them extremely poorly. And if Salt Lake City gets big enough that they can put their own rep there instead of Chris Stewart's — rural Utah is going to feel what it's like to be ignored on the Congressional level. It sucks."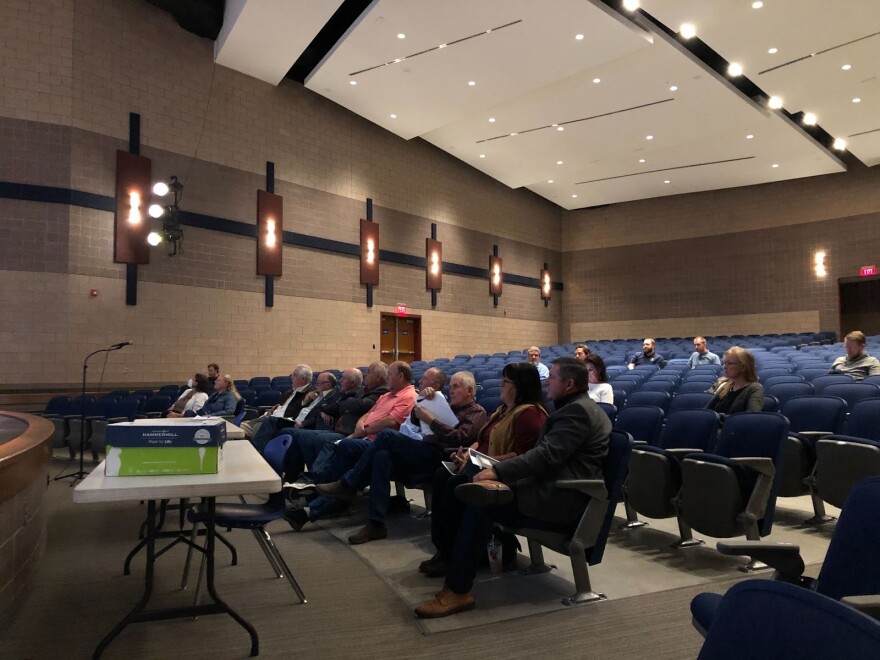 Republican Juab County Commissioner Richard Hansen agrees. He lives in the 4th Congressional District, which is already a swing district. It's mostly urban, but includes parts of two rural counties.
Rep. Burgess Owens, R-UT, won that district last year by just roughly 3,800 votes.
"I like Burgess," Hansen told KUER after the Richfield meeting. "I like where he stands. So we're OK with that right now. But in the future, it may not be that way. And so we would like to be more representative as a rural county rather than be kind of dictated by the larger urban counties right now."
Partisanship
Republican lawmakers will ultimately approve the final maps in mid- to late-November. They say it's important to have all Congressional districts encompass rural and urban areas. Their reasoning is that all representatives should care about the same issues so they're a united front in Congress.
That makes sense to Casey Saxton from Riverton. He went to a public hearing in Herriman in October and identifies as center right.
"It's important to take a view that encompasses the totality of what Utah is because we have pretty unique issues," he said. "There are plenty of issues that cross that urban rural divide and some that don't."
But Utah already has two people in Congress who represent the whole state: Sens. Mike Lee and Mitt Romney, Weber State University political science professor Leah Murray pointed out.
She said it can be hard for representatives to effectively split their time between rural and urban issues, particularly because committee assignments are limited.
"Let the House members in the rural areas fight for them and let the House members in the urban areas fight for them," she said. "And that's fine. That's the way it's supposed to be. But if I'm a House member doing both, then I've got to start making some choices, which I think is maybe not great for representation."
" ... If Salt Lake City gets big enough that they can put their own rep there instead of Chris Stewart's — rural Utah is going to feel what it's like to be ignored on the Congressional level. It sucks."

Daniel Friend
She said the debate over rural and urban districts is not really about how representation works best. It's about party.
"Generally, we're districting for outcomes that are good for us," she said. "I find it more reasonable to believe that our legislators draw these districts to crack the Democratic power base in Salt Lake City."
And that's why many Republican constituents, whether they're in Riverton or Richfield, like the rural and urban mixed districts that favor Republicans.
"What happens is human instinct," she said. "We join teams, we root for our teams and our partisanship happens before we know who Chris Stewart is ... It's less about 'What did he do for me?' But it's more about 'He's wearing the uniform I wear.'"
But Murray said it's pretty much impossible to have all four districts be mostly urban or mostly rural. They all need to represent roughly the same number of voters — and three quarters of the population lives along the Wasatch Front.
She said the question really is: how do you slice up the Democratic core of Salt Lake County?
Later this week, KUER will have a story on the debate over dividing Salt Lake County.