'Trump Highway' Through Scenic Utah Picks Up Speed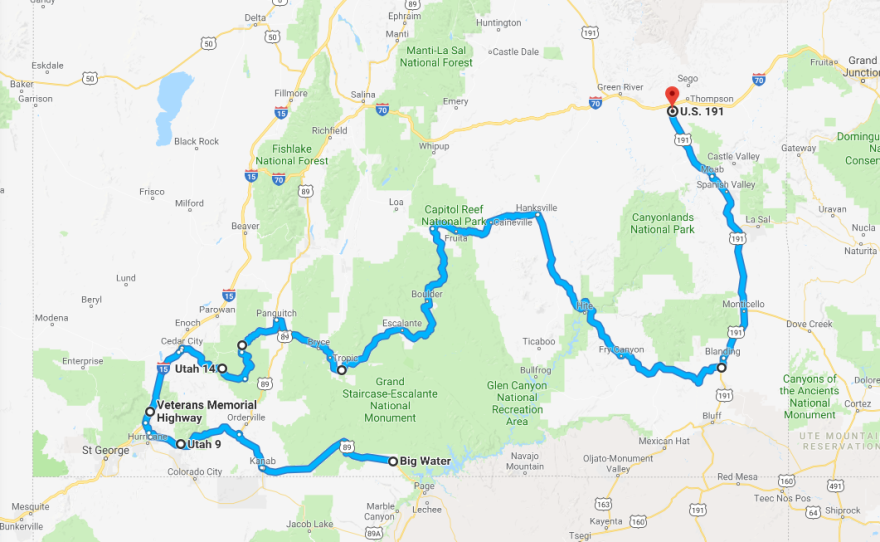 Pictured above is the route described in Rep. Mike Noel's bill for what would become the Donald J. Trump Utah National Parks Highway. Some opponents suggested at a Monday hearing that the signs will be vandalized and removed by Trump critics.
Utah lawmakers are considering a bill to honor President Donald J. Trump by designating a long route through southern Utah after him. Some say it's a "thank you" for scaling back two national monuments in Utah in December.
Utah's Republican-controlled Legislature have taken a first step towards renaming hundreds of miles of scenic roads after President Donald Trump.
Supporters of the move say Donald J. Trump is caring, effective and courageous, and the proposal is a kind of "thank you" for Trump's proclamation dramatically shrinking the Bears Ears and Grand Staircase-Escalante National Monuments. Sponsoring Rep. Mike Noel, R-Kanab, described Trump as a protector of public land - and victim of "Fake News."
"He's done some tremendous things, and he doesn't get recognition for them," Noel said during a legislative hearing Monday. "They [in the news media] are too busy beating him up."
The Donald J. Trump Utah National Parks Highway would cross the landscape of the two national monuments the president shrunk in December, Bears Ears and Grand Staircase Escalante. The environmental group, the Western Values Project, has asked for an investigation of Noel, because they say he failed to disclose land holdings inside the Grand Staircase – land holdings that Trump later excluded.
"I think he's done a tremendous amount," said Noel. "And I think, with seven more years – which I hope he has – we can turn this country around."
Noel's bill calls for new signs along 600 miles of rural roads along a route that passes Utah's five national parks.
"I just find the fact that we're having this conversation just to be a huge slap in the face," said Isaac Bustos, one of the people who testified against the bill.
"It's just not cool. It's just not alright in my opinion."
After the 9-to-2 committee vote, the House and Senate will have to act fast to make it become law before the legislative session ends at midnight Thursday.