Reporting from the St. George area focused on local government, public lands and the environment, indigenous issues and faith and spirituality.
Divide Between Southeast And Southwest Utah On Display At Legislature This Session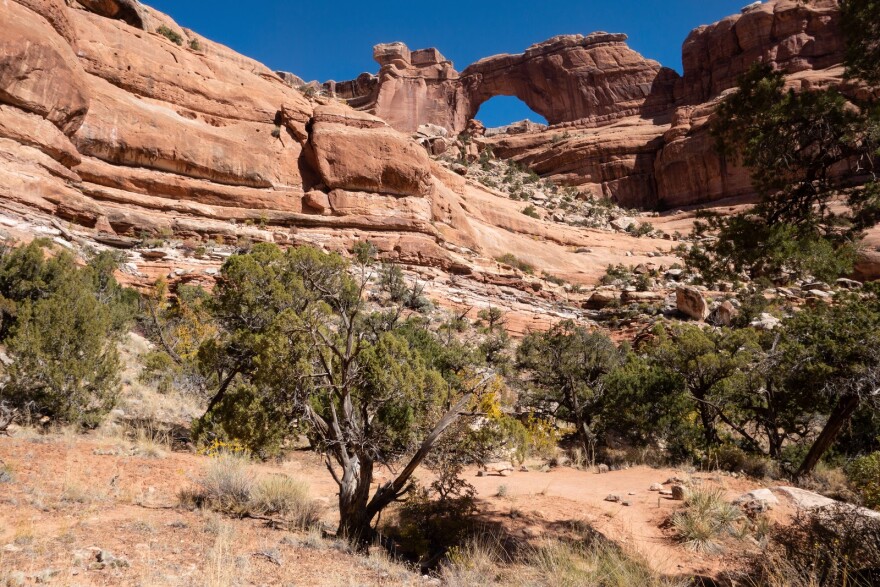 There's long been a divide at the state Legislature between southern Utah and the more populous Wasatch Front. And booming growth in southwest Utah is leaving behind the rural southeast and central parts of the state, some lawmakers say.
But support for rural issues at the state Legislature has grown over the past decade, according to Sen. Ralph Okerlund, R-Monroe. He points to the Rural Caucus, which he said used to max out at 15 participants. Now, over twice that number show up for its weekly meetings, including urban legislators.
"I think we've been able to get the message across about our needs and our differences," he said.
That's made it easier to pass legislation that benefits rural areas, like the Utah Rural Jobs Act, which created over $20 million in tax credits for rural businesses in 2017, Okerlund said.
As the legislative session kicked off this week, Okerlund and other rural lawmakers said they're looking to build on that support to help their constituents get better jobs and improve medical and legal services for rural residents, as well as empower them through technology.
Rural lawmakers like Rep. Phil Lyman, R-Blanding, want their districts to benefit more from the state's strong economy.
"Rural counties are underperforming, and urban counties are just killing it economically," he said.
Rep. Carl Albrecht, who passed legislation last session to connect rural workers to urban jobs through telecommuting, sees bolstering rural economies as good for the state as a whole. Specifically, he said keeping rural populations in place benefits the state by reducing overcrowding on the Wasatch Front.
"Southwest Utah is doing good. Everything north of Nephi is doing well, and then you have the hole in the donut," Albrecht said, referring to his district, which includes Sevier, Sanpete, and Emery counties. "The hole in the donut has a lot of tourism from the Wasatch Front and abroad. But we don't have the jobs. Our main export is our children."
Meanwhile, lawmakers from the increasingly urban southwest corner of Utah say they're focused on fiscal responsibility. About half of the seven senators and representatives from Washington and Iron Counties are working on legislation that would either reduce government spending or lessen the tax burden on their constituents.
Among them is Rep. Travis Seegmiller, R-Washington, who is drafting legislation to introduce cost-cutting reporting requirements for the state government.
"House District 62 residents overwhelmingly want a state government that is frugal, nimble, and non-intrusive — that invests every penny of our taxpayer dollars with the greatest care and fiscal conservatism," he said.
And with a smaller surplus in the state budget this session due to the repeal of the state tax law, State Sen. David Hinkins said there's likely to be less government spending, whether lawmakers want it or not.
Other legislative priorities for Southwest Utah lawmakers include bills to exempt social security from income tax, and lower the costs associated with state-owned buildings and art.
Kate Groetzinger is a Report for America corps member who reports from KUER's Southeast Bureau in San Juan County. Follow Kate on Twitter @kgroetzi
David Fuchs is a Report for America corps member who reports from KUER's Southwest Bureau in St. George. Follow David on Twitter @davidmfuchs