Find KUER's reporting on the races, candidates and more for Utah's 2018 midterm elections. Click here for our graphics of the U.S. Senate race, 4 Congressional races and Utah ballot initiatives.
Why Did A Woman Claim To Be A BuzzFeed Reporter At A Campaign Stop? Love-McAdams Race May Hold Clues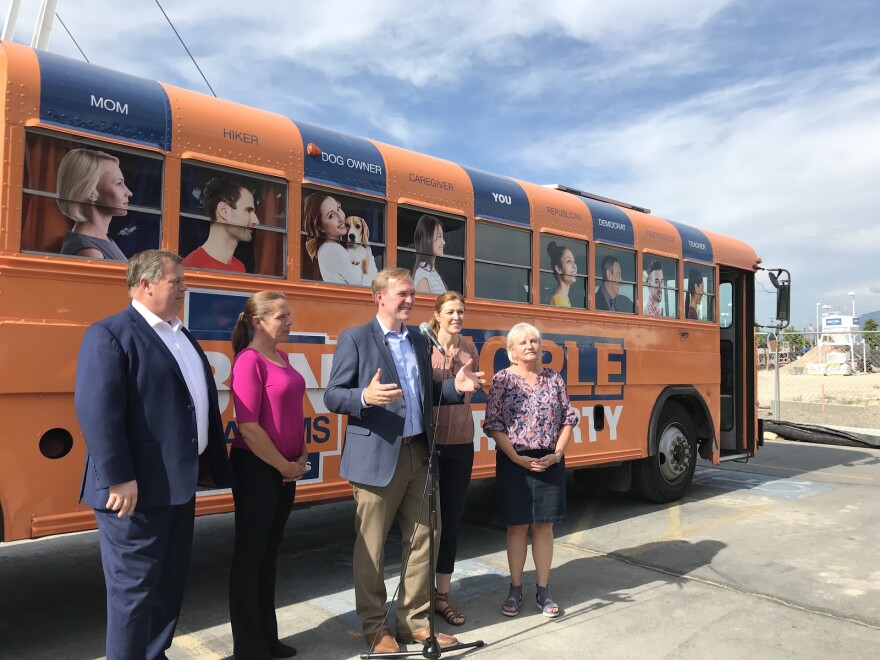 Democrat Ben McAdams had just finished a stump speech on July 10 in his nascent campaign to unseat Republican incumbent Mia Love in Utah's competitive 4th Congressional District when a young woman spoke up.
As a handful of reporters looked on, the Salt Lake County mayor stood in front of his signature tangerine bus at the Olympic Oval in Kearns, flanked by Republican and Democratic state lawmakers. McAdams listened as the woman, a tripod and camera at her side, began.
"I had a lot of people reach out to me with this question. They noticed that this bus was purchased with funds from your county mayor race, but it's now being used for a congressional race, and a lot of people are worried because this is a violation of FEC [Federal Election Commission] policies. … and not for these purposes," she said.
The woman later identified herself as Shannon and said she worked for BuzzFeed, according to another reporter at the event and a McAdams campaign staffer who requested her name afterward.
But the McAdams campaign suspects it was all a ruse, and that the woman was sent by the Love campaign. A BuzzFeed editor said the woman, whose full name is Shannon Grondel, was never employed by the news organization.
"I think it was dishonest," McAdams said about what the campaign sees as a political decoy. "I assume everything I say is public or going to be public or being recorded, and I'm not afraid to say what I believe because I think voters deserve to know what I stand for.
He added, "The 'gotchaism' they're trying to employ shows they have nothing better to run on."
The 'gotchaism' they're trying to employ shows they have nothing better to run on. — Salt Lake County Mayor Ben McAdams
No story or video ever appeared on BuzzFeed's website after the event. Grondel had submitted articles to the site's open publishing platform called BuzzFeed Community. But her work had been removed from the site a month prior to the McAdams' event for violating the site's terms of use.
"Ms. Grondel is not a BuzzFeed employee, and our Community Guidelines don't allow political posts from anyone who doesn't work at BuzzFeed News," the BuzzFeed editor confirmed.
Grondel is a recent graduate of Brigham Young University, where she majored in communications. She also served as a Fox News college ambassador and previously worked for KBYU, according to her personal website.
On June 13, she wrote on Facebook that her BuzzFeed account had been deleted after she posted an article scrutinizing campaign contributions to Ben McAdams via the left-leaning donation platform ActBlue.
"Maybe my article didn't quite align with their political leanings, but either way this information I came across is very concerning," wrote Grondel.
Grondel did not return requests for comment.
It is unclear why exactly Grondel was at the event, or whether she was paid to be there or if she volunteered to attend.
Dave Hansen, campaign director for Love, said he did not know Grondel or instruct her to go to the bus launch. But he did not rule out another campaign staffer doing so. He said when a volunteer offers to go tape an event, "We let them go to it."
Campaigns routinely employ people known as "trackers" to research, follow and record in competitive races.
"I know that the NRCC [National Republican Congressional Committee] has done it and I know the Democrats have done it because they've had trackers following Mia Love since the 2012 race," Hansen said.
Sasha Clark, a Love campaign spokeswoman and a Facebook friend of Grondel, did not directly address whether the young woman was sent to the McAdams' event by the Love campaign.
The "McAdams campaign livestreamed the press conference to their Facebook page so there was no need for us to record the event," Clark said in an email.
On Aug. 9, Scott Miller, chair of the Salt Lake County Republican Party, filed a Federal Election Commission complaint on the bus expenditure. He also questioned donations from the teenage children of one of McAdams' big donors. Such donations are not illegal under campaign finance law.
Miller said he did not file the complaint at the behest of the Love campaign and had been independently tracking McAdams' activities for years.
"It's my job to keep my eye on everybody — Republican and Democrat," he said. "If I find out that I have someone in my party doing something unscrupulous, I'm going to call them out on it."
If I find out that I have someone in my party doing something unscrupulous, I'm going to call them out on it. — Scott Miller, chair of the Salt Lake County Republican Party
A left-leaning group, American Democracy Legal Fund, earlier this year filed a campaign-finance complaint against Mia Love alleging she failed to report a $120,000 contribution by the Utah GOP after using its discounted postal rate for campaign mailings.
"We followed all the rules, which we've done in the past," said Hansen, who described the matter as a "nuisance complaint" aimed at generating press.
Both The Salt Lake Tribune and Deseret News have subsequently covered the dueling campaign finance allegations, characterizing the two complaints as evidence of an increasingly contentious race.
Ben McAdams has objected to what he calls the "false equivalency" in the coverage of the two campaign finance stories. At the July event, McAdams clarified they were leasing the bus from his mayoral campaign. Subsequent receipts show the bus was rented for $200 in June and will be itemized on future reports, according to the campaign.
"All they're trying to do is muddy the water and distract from the potential violations they've engaged in," said McAdams.
"Oppo": How Campaigns Get Dirt
The use of trackers generally falls under what's known as opposition research, or "oppo" for short, said Matthew Burbank, a political science professor at the University of Utah. In some cases, that can mean poring over a candidate's previous statements.
"In other cases, it can be considerably more than that," he said. "It can be hiring private investigators. It can be having campaign staffers follow the opponent around and record everything for the potential use in some campaign commercial. So it can be quite extensive work or it can be relatively minimal."
He said opposition research has always been used in well-funded campaigns, but it's increasingly used in local races, too.
"But ... very often nothing really much comes out of it," he said.
But ... very often nothing really much comes out of it — University of Utah Professor Matthew Burbank
Campaign financial filings show the National Republican Congressional Committee has paid one Mia Love campaign staffer twice in the last year for "research materials consulting," which included filming McAdams at public events.
McAdams' campaign confirmed a male staffer appeared at two events but did not ask any questions.
A spokesman for the National Republican Congressional Committee said Grondel was not one of its trackers. If Grondel was paid, it would not appear in either the committee's or Love's financial filings until the next deadline in October.
The Utah Democratic Party has also employed a paid tracker to follow the Love campaign, Alex Cragun, the party's executive director, said.
"However, posing as a BuzzFeed reporter, I think that's kind of beyond the pale," he said.
"Most people that track or do tracking that I've known, you show up and you go and you record the event, as you would experience it, that you don't become an active participant or pose as someone you are not," he said.
The University of Utah's Matthew Burbank, however, said there are no set rules for this type of work.
"In terms of campaigns, there's no kind of clear ethical guidelines about what you can do or not do. What it often comes down to is what kind of information do you generate, and how can you use it," Burbank said.
According to polls, McAdams and Love have been in a dead heat all summer with Love holding a slight advantage.
Burbank said the use of a plant would be notable if it meant an outside group or the campaign was spending resources on it.
"That really is going to raise some real ethical questions because … members of the press don't want people who are not in fact reporters going out there and asking questions as if they were when really what they're doing is gathering opposition research," said Burbank.