Nathan Ivie Still Wants To Maintain Some Privacy After Coming Out Publicly
Utah County Commissioner Nathan Ivie made headlines — and perhaps history – last month when he came out publicly as gay.
The 40-year-old is likely the first openly gay Republican to hold elected office in Utah history. In the few weeks since Ivie came out, he's received national attention.
But it's still new for the freshman commissioner to publicly embrace this part of his life.
The county commissioner is soft-spoken and seems most comfortable around his horses. He grew up around them and said they were his "therapists" and "salvation" as a teenager, when he struggled with his sexuality.
"The horses were the one place I could go and have someone to talk to who didn't talk back, who didn't call me names, who didn't judge or criticize me," Ivie said. "They just said, 'Brush on me and feed me, and we're good.' I'm incredibly grateful for them."
Ivie now has about 50 horses on his 30-acre ranch near Spanish Fork. Utah County is one of the most religiously conservative areas in the state, maybe even in the country, but Ivie isn't worried about the impact his coming out might have on his political future.
"The people around here judge you based on the job you do (and) the content of your character," he said. "I think (coming out) will, for the most part, be a non-issue and it won't affect people's' decision."
The newly-out commissioner has separated from his wife of 13 years, but would not say whether he plans to date men.
"That's personal," he said. "My life is very public as it is and I'd like to keep some parts of it fairly private."
Ivie's up for re-election next year, but Utah County is also looking at changing its form of government. If that happens, he might run for county leadership again, either as a commissioner, mayor or councilmember.
He's also mulling a congressional bid against Democratic Rep. Ben McAdams in the 4th Congressional District.
While most of the reaction to his coming out has been overwhelmingly positive, Ivie says he's been criticized by about "one percent" of both liberals and conservatives.
Some Republicans have criticized his decision to end his marriage, while some on the left have called him a "traitor" to the LGBTQ community. He says he tells those critics that "oftentimes, the greatest way to influence change is from within."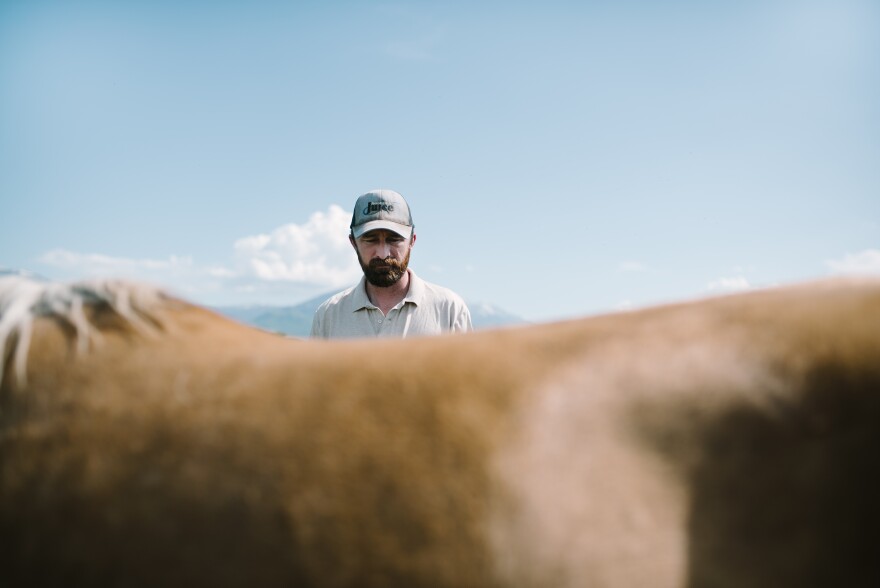 Ivie is a trailblazer for LGBTQ Republicans in deep-red Utah and says the GOP can be a good place for other LGBTQ folks.
"At the heart of the Republican party is the idea of protecting individual liberty and individual rights. Once people come to understand what the party stands for in that regard, I think they'll recognize that there's a place for them here," he said.
Earlier this year, the Utah Legislature attempted to ban conversion therapy, a widely-rejected form of psychotherapy that claims to change a person's sexual attraction, for minors. While conservative lawmakers torpedoed the bill, Ivie doesn't believe it's a partisan issue, pointing out that the bill was sponsored by two Republicans.
"I was very, very disappointed that that bill didn't pass because conversion therapy kills people," said Ivie, who once considered undergoing the practice but ultimately decided against it. "It's damaging, it's harmful (and) it's a poor practice. I hope that the Legislature can pick that issue back up again and that they can do the right thing and get it passed."
Ivie said part of the reason he came out publicly was because of rising LGBTQ youth suicide rates. He wants to show queer youth that sexuality is "not a defining characteristic" and "that you can still be a productive member of your community, you can still hold public office, you can still be a good dad, you can still be a good friend. I hope the way I live my life will help kids with that."
"You're needed in our homes, our families, our community," he frequently tells young LGBTQ people. "Keep going. Things will work out."
While Ivie plans to separate from his wife Stephanie, he said she is still his best friend and that they will continue co-parent their two children, ages 11 and 12.
"The commitment that we made to one another was to love and support (our family) and that commitment is unbroken," he said. "Our living arrangement has changed, but we are still fully committed."