Tax Filers Can Now Chip In For Cleaner Air In Utah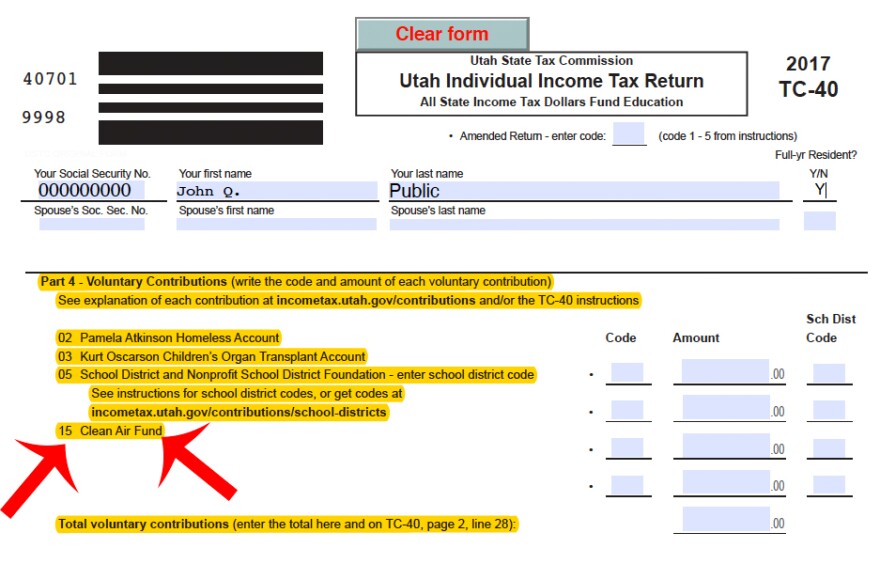 More than 2,000 Utahns looking to support clean air programs dug into their pockets and contributed to a new fund on their 2017 state income tax returns.
To date, 2,352 Utahns have donated $39,504 into the new Clean Air Fund, the State Tax Commission said. More contributions are expected before the Oct. 15 deadline for filing late returns.
The new fund was one of four causes to which Utah taxpayers could make voluntary contributions on their 2017 TC-40 forms. Other causes include the Homeless Trust Fund, the Children's Organ Transplant Trust Account and the Education Tax Check Off.
Overall, 9,097 taxpayers have made voluntary contributions totalling $201,171 with their 2017 state income taxes, according to the Tax Commission.
Rep. Patrice Arent, D-Millcreek, sponsored legislation after fielding requests from Utahns who wanted to assist her efforts to clean up air pollution in Utah. Her bill passed the House and the Senate with overwhelming support.
"They'd suggested: 'Is there a way to contribute on my tax return?'" said Arent, who shapedthe idea into a bill for the 2016 legislative session.
The House Democrat lined up bipartisan support that included Provo Republican Curt Bramble, who was the Senate floor sponsor.
"When I see the results, how many people contributed this year on their 2017 tax returns, it's clear that this is a very important issue and a lot of people wanted to help," Arent said.
The Utah Division of Air Quality is not supposed to use the money for regular programs but for supplementary clean-air projects proposed by individuals and outside organizations, Arent said.