Reporting from the St. George area focused on local government, public lands and the environment, indigenous issues and faith and spirituality.
Dixie State Police aim to prevent in-house misconduct with new certification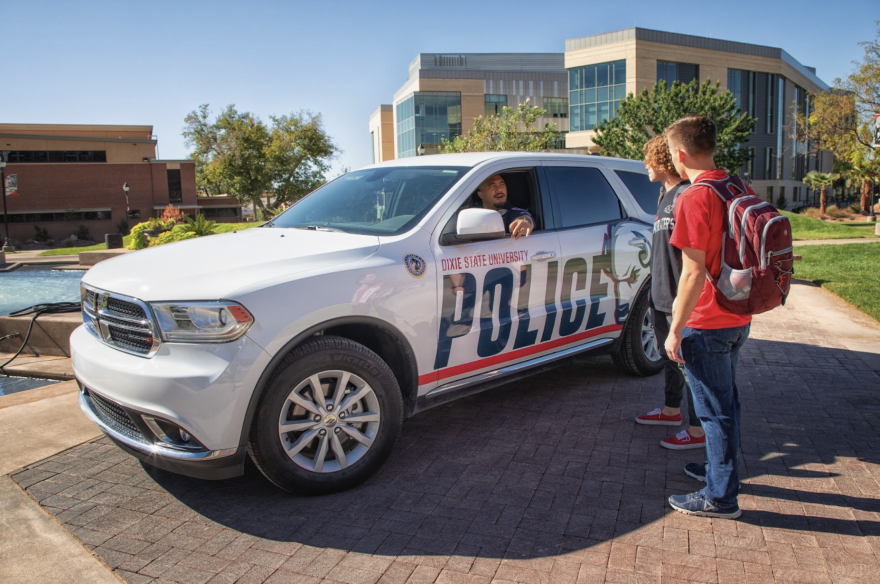 Dixie State University's campus police recently received Active Bystandership for Law Enforcement certification, or ABLE. The training teaches peer intervention as a way to prevent misconduct from officers.
The ABLE Project started after the 2020 murder of George Floyd by Minneapolis police. Over 200 agencies are part of it nationwide. DSU is the first in Utah.
Chief Blair Barfuss said historically there's been a rigid structure in law enforcement, making it difficult for some officers to intervene and accept intervention. But he said being ABLE-certified will help officers do their job better and in turn better serve the community.
"It's about creating a culture and a climate within our police departments and our profession that expect and support intervention of each other if something's observed that could be problematic," he said.
Active bystandership isn't a one-off training or "a little PowerPoint," it's something agencies regularly practice and receive training for, according to Lisa Kurtz, the ABLE project director.
She said they lay a theoretical foundation for the training, then teach people specific skills and tactics for intervention on an on-going basis. Agencies also have to have a community-facing program, so "eventually it becomes second nature."
"We talk about really redefining loyalty from that 'blue wall of silence,' from what we call blind loyalty of just 'do what you want and I'll cover up for you.'" she said. "And instead, we focus on constructive loyalty, which is saying, 'I hold you to a high standard.'"
To be certified, community groups have to sign a letter of support. The Multicultural and Inclusion Center and Black Student Union at DSU gave their approval. Nahjae Malone, a junior and member of those groups, said it'll help officers understand the impacts they have on students.
"It'll help build, especially [among] diverse students here on campus, trust of police officers that they don't really feel comfortable with," Malone said. "And it'll help them have the accountability and responsibility of making sure everyone is safe and protected within … the community here at Dixie State."
Barfuss said he's working with other agencies across the state to make them ABLE-certified.
"It really is easy to understand, it's readily available to our officers, and it makes sense," he said.