SLC Mayoral Race Showcases East-West Disparities
Interstate 15 and the train tracks that run alongside it cut Salt Lake City in half more ways than one.
While the freeway is the physical boundary of the city's west side, where more than a quarter of the population lives, it's also where, some residents say, many city service end.
Things like transportation options and after school programs don't make it out west.
"I think we tend to get on the short end of these things," said Dr. Forrest Crawford, a longtime Rose Park resident and leader in Utah's black community. "There's kind of an imbalance there."
The majority of west side residents are people of color. While some community members say this part of the city is ignored, Crawford doesn't go that far. But he says residents' sentiments are often underrepresented.
"We want to be viewed as an integral part of greater Salt Lake City, not just the sideline," he said.
Crawford points out that as the Salt Lake area sees rapid economic growth, the west side has been stuck with projects its residents don't want, like the new state prison and the planned inland port.
That's why he's supporting Luz Escamilla for mayor, whose candidacy he says is an overdue "gift." Crawford says Escamilla, who currently serves in the State Senate has a "unique sensitivity" to issues facing the west side — and the city as a whole.
Escamilla is a Mexican immigrant who, if elected, would be Salt Lake City's first mayor of color and the first mayor to live west of I-15. She is also the first mayoral candidate from the city's west side on the general election ballot in 20 years, according to historical filing records.
Escamilla and Salt Lake City Councilwoman Erin Mendenhall emerged from a crowded primary last month and will face off in the general election on November 5.
Home-Grown Support
Primary election returns show that each candidate's support was based largely on the geographic areas they represent: Mendenhall won most of the east side — she represents Ballpark and 9th & 9th neighborhoods on the city council — while Escamilla won the west side, much of which she represents, along with portions of West Valley City, in her Senate district.
If that support holds, the two will have to battle over votes in downtown and Sugar House in the general election.
The east side has always held more weight in Salt Lake City politics, said University of Utah political science professor Matthew Burbank.
"In terms of population, in terms of political organization and ... historically, the east side has always been sort of higher socioeconomic status," he said.
But Escamilla's candidacy, along with the planned development of a controversial inland port on the city's west side, are helping bring new issues to the forefront of this year's mayoral race.
The Democratic State Senator has made equity across the city a central part of her campaign. She often cites gaps in education, health and achievement between the city's east and west sides.
"There needs to be a very intentional, conscious decision to close those gaps," she said at Jordan Park on a recent morning. "I think having someone that comes from that perspective, it just brings a different conversation in the way we tackle issues."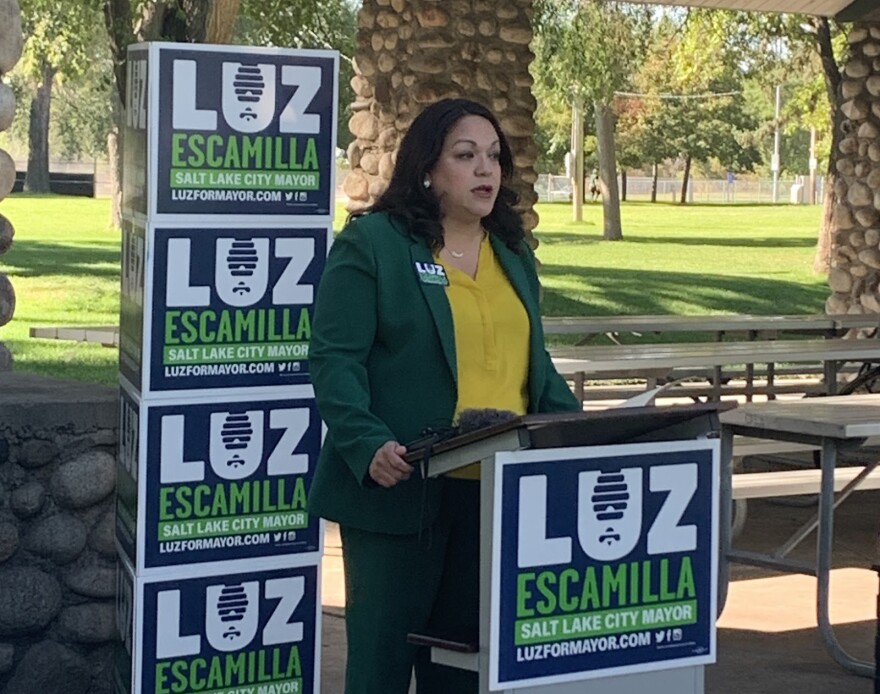 Escamilla points to after-school programs offered by the city, which are separate from other programs run by nonprofits or the school district. While she says the city is fortunate because there are many resources, they're not spread out equally.
"The disparity of programs is big," she said. "There's less programs on the west side even though more kids live on the west side. So we need to bring programs here."
Escamilla believes the city can do more to increase access to affordable childcare and early education.
She also points out that Salt Lake City bills itself as a bastion of inclusiveness, but that's not reflected in the way it serves its west-side residents, who are mostly Hispanic.
"If you believe that we live in the most progressive, inclusive city, then that inclusiveness needs to reflect on every policy," she said. "It will require investment, and probably more investment in some areas, to close those gaps."
Heading West
There's also the inland port, which was thrust on the city last year when the state legislature set aside 16,000 acres near the airport to build a massive import/export hub.
Escamilla and Mendenhall are both opposed to the project, though Mendenhall's opposition has been called into question by some critics. Each candidate has said that as mayor, she would work to get the best possible outcome for the city and nearby residents as the inland port moves forward.
Mendenhall hasn't blind to issues facing facing the west side during her campaign. Standing in front of a construction site that will soon be affordable housing nestled next to the train tracks on 500 West, she argued that her six years in city government have given her deep insight into how the city work — and how it fails some of its residents.
"I think Salt Lake City needs a mayor that knows how to run Salt Lake City and make it work better for us as residents," she said. That includes "the intricacies of longstanding issues like zoning and the implicit bias that's built into some of those issues."
If elected, Mendenhall has also pledged to spread affordable housing throughout the city, and to plant a 1,000 new trees a year on the city's west side.
"What that's going to do is increase property values [and] walkability, but it's really going to help us with the air quality too," she said.
But Mendenhall says voters should look at the issues, not just a candidate's zip code.
"We need to be judging the candidates for this election based on their skills and their ability to execute on the vision, not on where their neighborhood is," she said.
Clarification 2:20 p.m. MDT 9/27/19: This story has been updated to clarify both candidates' stance on the inland port project.